Ch. TavernierVive La Difference
"Viva"
Born May 24th, 2001
Ch. Karador's Cabaret Voltaire x Ch. Karador's Style And Grace
Hips & Elbows OVC Clear, Heart, Thyroid, Eyes Tested, VWD Clear
Bred by Kerry Thorbourne/ Tavernier Reg'd & Dr. Alison Jones / Karador Perm Reg'd
Owned by: Tavernier Reg'd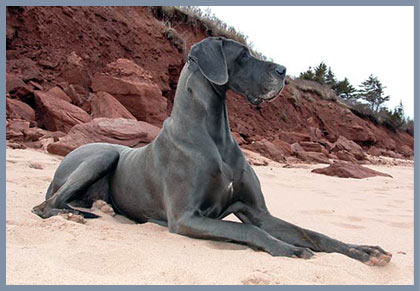 The First Natural Eared Blue Great Dane to Win a Canadian Championship Title in Atlantic Canada!!!
Please be patient while the pictures load.
We would like to thank Judge James Reynolds for seeing what we see in this natural beauty and making her a Canadian Champion . Also many thanks to Cindy Fizzard for expertly handling Viva to her well deserved title.
We are very proud of Viva. She has proven to be an awesome producer!! Check out her kids Tommey, Simo, Camee , MacKenzie & Stacie.