Ch Tavernier's Black Widow
"Sophie"
May 24th, 2001 - Nov 28th, 2005
My HEART , My SOUL MATE
If tears could build a stairway
and memories a lane,
I'd walk right up to Heaven
and bring you back again...
.....Author Unknown
Take care my Sweet Angel until we meet on the sandbars of Heaven.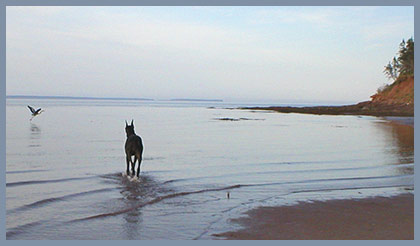 Sophie summer 2004
Sophie was my special girl. She was my first born from my first litter. My first Home Bred Champion exclusively shown in the Bred By Class..... thank you respected judge Donald Wallace. She was my first Group Winner .... Thank you respected judge Guy Jeavons and my first multi Group Placer. Sophie and I would many a time enjoy walks on the beach and she loved to run on the sandbars at low tide and wade through the water. She was a big substantial girl that always stood very Proud both in and out of the ring. She always made me feel good when I had her with me and she loved to show especially with me on the end of the lead. She was a photographer's dream when it came to photographing her. Many a time I would take her to the beach just her and I for our special times and to photograph her.
Many people will remember her as the big loving black dane at the shows that loved to lean so hard that she would almost fall over. She would walk up behind people and push her head under their arm and flip it up over her for a sneaky hug. She loved the shows and all the attention she got. She turned heads where ever she went.
Please be patient while the pictures load.
Sophie has produced 5 Champions and has 4 more pointed. She gave me a beautiful litter of boys with Tommy and I asked Sophie if she would do it one more time and please give me girls. I so badly wanted a Black Tommy X Sophie daughter. Sophie being truly loyal to the end gave me the greatest gift she could ever give me and gave birth to a litter of Tommy daughters. Unfortunately she crossed over the Rainbow Bridge 4 hrs after giving me this litter of Miracles. Her delivery was long and hard on her and she ruptured inside and bled out. My home feels very empty right now without her here but I'm praying that I'll find my Sophie in her daughters. My dreams and hopes will live on in her kids. Her black son Jack in NL his first weekend out took 2 BPIG and a Group 4th for his first point. Her other son Hunter took WD and BOB his first weekend out for his first 3 pts.
Ch. Tavernier's Black Widow
Ch. Karador's Cabaret Voltaire x Ch. Karador's Style And Grace
"Sophie"
Born May 24th, 2001
CKC# LJ742231 , Microchip # 127529251A
HIPS & ELBOWS: OVC Clear , Eyes, Heart, Thyroid & VWD clear
Sophie's kids....
Ch. Tavernier's Rumer Has It
Ch. Tavernier's God Of The Sea
Tavernier's I Love Lucey (pointed)
Ch. Tavernier Stalking Sharcon
Ch. Taverniers BlackJack V Sharcon (CKC pending)
Ch. Taverniers Mighty KC V Sharcon (CKC pending)
Taverniers Caspian Sea Sharcon (pointed)
Tavernier Izaboutime Sharcon (pointed)
Tavernier So La Ti Da Sharcon (pointed)
Tavernier O So Eliegant Shrcon