Ch. Tavernier's In The Nik Of Time
"Nik"
Born May 24th, 2001
Ch. Karador's Cabaret Voltaire x Ch. Karador's Style And Grace
Hips & Elbows OVC Clear, Heart, Thyroid, Eyes Tested,
Bred by Kerry Thorbourne/ Tavernier Reg'd & Dr. Alison Jones / Karador Perm Reg'd
Owned by: Tavernier Reg'd Loved and cherrished by Jason Hicken, Pembroke Prince Edward Island.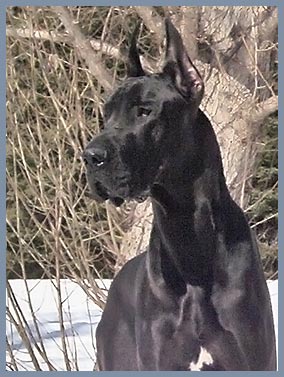 Nik pictured at 4yrs. Photo by Jason Hicken
We are very proud of this tall dark & handsome man . He is the 3rd Champion for our Foundation Bitch Graci and Daniel's 4th.
Nik 's first weekend out he came home with 6pts!!! Thank you professional handler Cindy Fizzard for giving Nik such a good experience his first time in the ring.
Nik is a natural show off. From the time he could walk he would strut around in the whelping box full of pride. Nik and I have a very special bond we always look forward to seeing each other.. He was born not breathing and I worked very hard to revive him. We cried tears of joy when he finally took his first breath. He was born in the Nik of Time cause 5 or 10 mins later and I wouldn't have been able to bring him back. He is my special man and will always have a special place in my heart. He looks so much like his mom Graci. Enjoy his photos.
Please be patient while the pictures load.