Ch. Tavernier Stalking Sharcon
Introducing the man of the house
"Hunter"
Born May 9th, 2005
BISS AmCh. Sharcon's Tomahawk x Ch. Tavernier's Black Widow
Heart, Thyroid, Eyes Tested,
Bred by Kerry Thorbourne/ Tavernier Reg'd
Owned by: Tavernier Reg'd and adored by all that have had the pleasure of his company.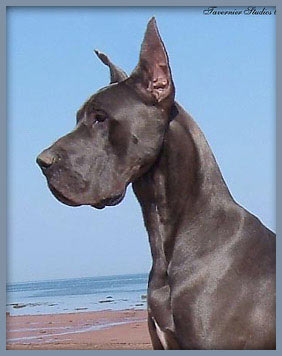 Hunter pictured at 1yr
Well let's see where do we start when we talk about this Handsome, fun loving, class clown guy! Hunter is a joy to show. He was both owner-breeder handled and professionally handled to his Canadian Championship. Thank you Cindy Fizzard..... you always do such of wonderful job with my furkids.
Everybody that meets Hunter falls in love with him. He is quite the "talker" . Many times when people call me they fall for him over the phone just from hearing him talk. He loves to drag around his sookie blanket and is a big time cuddler. My 160 lb lap dog!
He has his own fan club.... the president of his fan club is long time Dal breeder and friend, Kathy Fizzard of Cyrka Perm Reg'd. She has been his biggest fan right from the time she saw "Da Boyz" at the Lady Slipper Kennel club show when they were just 8wks old.
Hunter always looks forward to when people come to visit but I'll warn you right now..... you can't take him home with you. LOL! Enjoy looking at his pictures and more will be added as he matures.
Please be patient while the pictures load.