Our Foundation
"Ch. Karador's Style And Grace"
"Graci"
Born : Dec 18th, 1998
Bred By: Dr. Alison Jones / Karador Perm Reg'd
Co-owned by: Kerry Thorbounre / Tavernier Reg'd & Dr. Alison Jones / Karador Perm Reg'd
Hips & Elbows OFA'd Good, Heart, Thyroid, Eyes, & VWD Clear.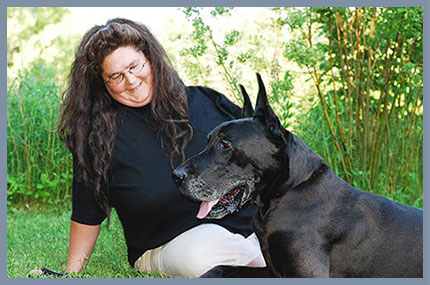 Am Ch. Daneboa's Great Uproar x Can. Ch Karador's Orchestral Manuevers
Pictured at 8 1/2yrs old...
Photo by Phillip Chitwood
Graci has ALWAYS been a joy to live with. Her title in the house is Grandma and she loves it when people come to visit us.
Graci is a beautiful girl and was owner-handled to her Canadian Championship.
A special thank you to Alison Jones DVM / Karador Perm Reg'd for trusting us with such a lovely girl and our foundation.
When owning a Great Dane, you learn very quickly that every day with them is a blessing. We are very blessed here at Tavernier with our lovely girl Graci at 8 1/2 yrs of age. Share in our blessing and please check her page often as her golden years are photographed. With a Heart Break breed you just never know when they will leave you.
Please be patient while the pictures load.
Co-bred with Alison Jones, Grace has given us 2 lovely litters, 4 champions and 1 pointed.
She is now retired and spends her days lounging in the sun and enjoying runs on the beach with her daughters and grandkids.